Settlers from the east, most of whom were farmers, quickly increased the population of the young county. In fact, the economy of Madison County, like that of the majority of the state, has been primarily agrarian since the settlement period. Corn was the most important crop raised by early Madison County farmers. The soil proved fertile for raising other crops as well, including rye, oats, hemp--first grown in 1775--and flax.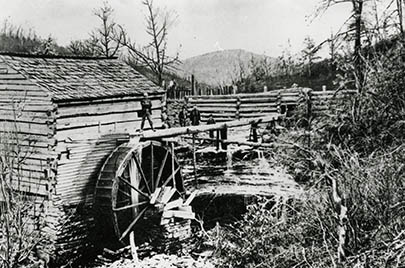 Tobacco became a valuable cash crop very early in the county's history, and by 1787 the Madison County Court used tobacco as a medium of exchange. Farmers stored their cut tobacco in large privately owned wooden warehouses before inspection and weighing by court-appointed inspectors. In fact, three tobacco warehouses operated in Madison County by 1798. Tobacco production and warehouse activity continued to increase, and tobacco remained one of the most important crops for Madison County farmers throughout the nineteenth century. With the introduction of burley tobacco in the late nineteenth century, production of the leaf quickly dominated Madison county agriculture. Since then, income from burley has constituted a major portion of the county's revenue.
Beef cattle, hogs, and mules combined to make Madison County the largest livestock producer in the state by the 1840's. The county also remained Kentucky's leading wool and sheep producer well into the nineteenth century. Although early residents never established horse breeding farms on the scale of those in the central Bluegrass, the raising, racing, and sale of horses was a pursuit of many farmers, with some Madison countians becoming horse enthusiasts. The county was second in the state in cattle production in 1870, outranked only by Bourbon County. Beef cattle continue to be important in this county where more that two-thirds of the land is devoted to agriculture.
Industries also played a vital role in the early economic development of Madison County. Distilleries were operating on the south side of the Kentucky River by 1783. The production of distilled liquor from corn became a profitable enterprise, competing with the raising of tobacco and livestock as the primary economic activity throughout the nineteenth century in Madison County.
Several grain mills were established on each major creek in the county. The miller usually accepted a share of the milled grain for payment.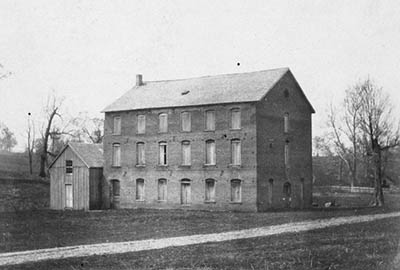 Numerous industries such as hemp rope factories, furniture-making shops, a cotton- spinning mill, wool-carding factories, and a nail factory flourished in the early nineteenth century. Madison County had fifty-four establishments for manufacturers by 1860, the largest of these producing staple provisions, followed by the production of distilled liquors. The industrial establishments remained essentially unchanged until 1885 when a new creamery opened. These types of industrial interests continued to be important until after World War II. At that time a number of light manufacturing plants such as Gibson Greeting Cards and Westinghouse began producing in Madison County.
Businesses were established and expanded as agrarian wealth increased and as demand for services and merchandise grew. Colonel John Miller's Tavern, a log house located on the corner of First and Main Streets in Richmond, served as the first hotel in Madison County. In the first half of the nineteenth century, taverns, called ordinaries, served as social centers for the county's predominantly rural population. They were usually located on major routes between towns and settlements. Agricultural production also led to a diversity of retail and processing businesses by the 1840's: farm implement stores, blacksmith shops, and tanneries, as well as furniture stores, tailors, booteries, millineries, and dry goods stores.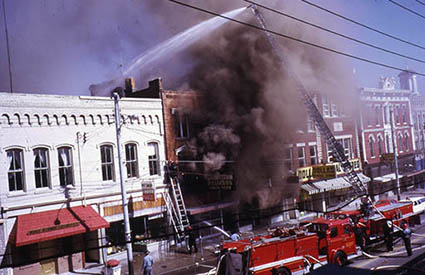 Although a volunteer fire department had been established by 1817, Richmond's businesses suffered from many fire disasters throughout the nineteenth century. Nevertheless, according to an 1876 D.G. Beers and Company Map, a variety of businesses operated in the town. Eight attorneys, two physicians, one dentist, one jeweler, and one insurance salesman offered their services in Richmond. In addition, there were four banks, three livery stables, one furniture store, three clothing stores, two hotels, and one distillery.
Some of Madison County's biggest internal changes from 1850 to 1900 were evident in the increasing number of its business institutions, especially newspapers and banks, organized by prominent citizens such as James B. McCreary, Alexander Tribble, William M. Irvine, and J. Stone Walker. The Berea Citizen has published continuously from 1899 to the present. Also, the Irvine and Walker Bank, begun in 1874 and reorganized in 1897, continues today after a series of mergers as Chase Bank of Madison County.
Information for this article came from Lavinia H. Kubiak's Madison County Rediscovered: Selected Historic Architecture (1988)
Additional information provided by Dean Whitaker