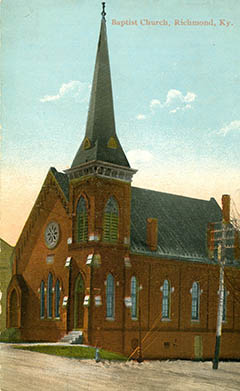 The earliest recorded religious service in Kentucky took place at Boonesborough in May 1775. The Baptists represented the first religious denomination in the county, with the Tates Creek Baptist Church being organized between 1783 and 1785. The first Methodist congregation, Proctor's Chapel, now Red House Methodist Church, was organized in 1790 near Boonesborough. A Presbyterian congregation, called the Silver Creek Church, was also formed in 1790 at Round Top near Milford. Tent revivals were held throughout the county and offered a religious and social opportunity for many citizens.
Congregations of the Disciples of Christ were established in the 1830's in several rural areas and in Richmond in 1844. The First Baptist Church congregation on Irvine Street in Richmond, the earliest church organized by blacks, was also founded in 1844. Before that time blacks and whites had worshiped together. Roman Catholics organized in 1858 and the Episcopalians in 1871 in Richmond.
Madison countians enjoyed a variety of cultural and social activities. Mills served as social gathering places as well as marketplaces. Another source of both social and economic exchange was Richmond's public marketplace that opened officially in 1810 on the east side of the courthouse square. A 26'x40' roofed markethouse was constructed on Main Street in 1812 and removed in 1852 after the construction of the new courthouse. In spite of the loss of a markethouse, Court Day in Richmond (the first Monday of each month when the circuit court convened) offered social exchange and entertainment as much as the opportunity to trade farm goods and livestock until the late 1940's.
The county fair, begun in 1833, advertised and sold local produce in a carnival atmosphere which included livestock shows and horse racing. Reportedly, the first racetrack in Richmond was located on the land that is now the Richmond Cemetery. More formal entertainment was offered at Green's Opera house in Richmond which operated from 1872 until it was destroyed by fire in 1887. Throughout the nineteenth century citizens were entertained and enriched by their participation in philosophical societies; men's and women's organizations, such as the Cecilian Club and the Masons; and county events ranging from militia musters and political debates to circuses, traveling shows, foxhunting, and chicken fights.
From the early twentieth century until 1932 numerous traveling Chautauquas offered Madison countians cultural enrichment. Some of the nation's greatest men, both black and white, such as William Jennings Bryan, Dr. George Washington Carver, and Dr. W.E.B. DuBois, spoke to large crowds in Richmond and Berea.
Information for this article came from Lavinia H. Kubiak's Madison County Rediscovered: Selected Historic Architecture (1988)
Additional information provided by Dean Whitaker